Brownsville, Pennsylvania is the main setting for Netflix's I Am Not Okay With This.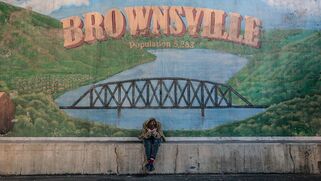 It is where Sydney Novak and her friends reside, and where most of the series' events take place.
According to Sydney, the town won the 'grand price to the most polluted air in America'.
The huge mural reading 'Welcome to Brownsville - Population 5,283' is located under the 1914 West Intercounty Bridge on Water St.
Brownsville, Pennsylvania, is situated on the banks of Monongahela River, 40 miles south of Pittsburgh. The town used to be an important industrial and railroad center before it began to decline as a result of the restructuring of these sectors by the 1970s.[1]
Reference List: